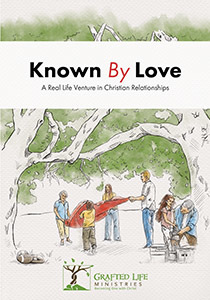 $19.95
plus shipping
Includes workbook and audio lessons
Jesus desired His church to be the place where the real life evidence of His life would be found. Before He went to the cross He instructed His disciples:
"A new commandment I give to you, that you love one another: just as I have loved you, you also are to love one another. By this all people will know that you are my disciples, if you have love for one another." John 13:34-35 (ESV)
So, if someone were looking for proof of Jesus' love would they find it in our Christian communities? Would "loving" be their first impression of our interactions with one another? How can we move from theory to practice and grow in our ability to give and receive love in our relationships?
Known By Love is a twelve week interactive journey designed to get you involved in your current Christian relationships.
This experiential study breaks down the theory of love into small relational concepts and skills that can be digested and applied in community with others. Through Scripture meditations, guided relational projects, personal reflections and group questions, this study carries a Christ-like love into real life encounters.
Known By Love is hands-on. Each week offers opportunities to practice aspects of love in our relationships with God and with other Christians in our lives. Through the course of the weeks participants explore topics like:
Receiving love from God in order to love others well
Being known by God and others through honest and transparent sharing
The qualities of a good listener
How to respond to others with kindness and grace
If you have a desire to grow in love, this experience was created with you in mind. Whether your Christian relationships happen at home, at church, at work, or in random encounters, the principles in Known By Love affect real life change in the way you give and receive love with others.
How does it work?
You can purchase Known By Love on our website. It doesn't require a trained leader. It can be incorporated into an established small group or you can use it less formally with a couple friends or family members.
Each week includes five activities which total a 2-3 hour time commitment.
The Lesson—15 minutes
Listening to the audio podcast will begin the activities for each session. Each Lesson podcast focuses on the Scripture for the week, offering opportunities to listen to the verses and to consider application of the biblical concepts in your relationship with God and others. Each recording is between 10 and 15 minutes long and can be accessed on the Grafted Life website.
The Real Life Practice—20-30 minutes
After you have listened to the Lesson, you will be invited to practice the scriptural concepts in your life. These real-life activities are relational encounters that you will have between you and God or with another Christian in your life. Your notebook will guide you through the process of choosing who you will connect with and any conversation topics that you should cover.
Participating in these conversations will allow you to experience how love is present or lacking in your current relationships. They will help you to see where growth is needed and where small changes can make a big difference in the way love is given and received.
Observation Notes—10-20 minutes
After you have completed the Real Life Practice, you will be led through a short series of questions that help you observe what happened in the encounter. These opportunities for evaluation are needed because while we are engaging in relationship, our minds are occupied in the exchange. We have a limited capacity to understand what is going on. When we take the time later to turn our full attention to what happened, we have an increased ability to see the whole picture and expand our perspective. This also gives us an opportunity to include God in the process, asking that His perspective be added to our own insight about the conversation.
Reflection—20 minutes
To complete your personal exercises for the session, you will answer a series of reflective questions designed to integrate the components of the study for that week. These questions will give you an opportunity to revisit the Scripture verses and the Lesson, in light of the Real Life Practice, and consider your own thoughts and feeling about the material. This ending evaluation will allow you to think about what has been beneficial and what you would like to apply going forward.
This time of reflection is also a time of prayer—a time to talk over your thoughts and feelings with God. He will be there to direct your thoughts as you open your heart and mind to what He wants to communicate.
The Group Discussion—30-60 minutes
At the end of each session, you will find questions for group discussion. These conversation starters are designed to help a group share their experiences with each other. Having the opportunity to verbally process what happened and to synthesize the activities can bring clarity to what God is doing in our hearts and lives. Participating in the group discussion also gives you another opportunity to practice the relational skills of love which are covered in the study.
If you are not participating in Known by Love as a part of a small group, we recommend that you invite one or two other people to do the study with you. Going through the process with others can add a helpful dimension to the study experience.
No matter where we find ourselves in our spiritual journey, love is our calling as Christians and our calling card to the world that we belong to Jesus. If you have any additional questions, we would love to tell you more. Also, we are always available to help discern how to incorporate this study into your ministry setting.