About Us
Grafted Life Ministries resources churches and individuals with resources that help people root their lives in Christ's transforming love.
Practically speaking, we create and offer resources that are biblically sound, experientially robust, and communally practiced by Christians. Our resources are distinct because:
We work in, with and through churches as much as possible, while many formative experiences happen outside the church (going on a retreat, attending conferences on formation, pursuing education, practicing spiritual disciples).
We engage you in everyday life, while most other formation experiences are episodic (a weekend retreat, a week-long camping experience). Many people ask "what do I do when I back home?" Our resources "hold you" over the long haul while God is working on changing your heart.
We have 10 studies that are actively used today by adults from a wide range of denominations. All of our resources value:
Biblical Teaching to understand what Scripture instructs and illustrates regarding all of our relationships
Experiential Learning to employ hands-on, heart-penetrating exercises that explore love in real life circumstances
Growing Together to practice within the Body of Christ and support one another in love, to love
As you explore our resources, we look forward to forming a relationship with you and with your church community. Let us know how we can encourage your life with God.
Our Vision: Reaching All Ages and Stages
The church is struggling to reach a new generation of young people. While existing curricula has focused on growing children intellectually and morally, we are not aware of any comprehensive resources in existence today that balance intellectual growth, spiritual practices, and relational development.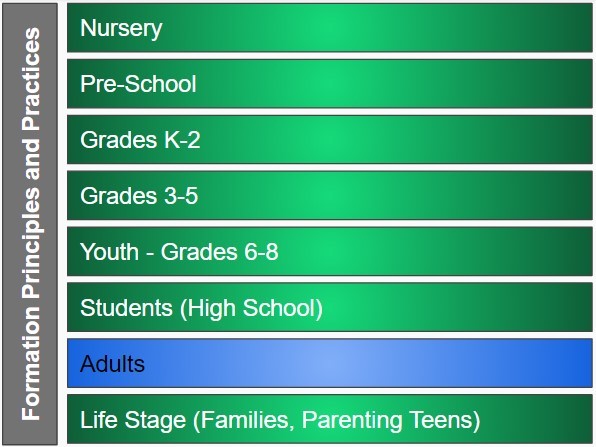 Grafted Life Ministries has scoped a suite of age-grade and developmentally-appropriate curricula for use in churches for children from nursery through 5th grade, youth (middle school), students in high school and college, as well as child/youth leaders. The development of these materials will be done in partnership with Kidz at Heart.
We also envision a suite of parenting resources that will help families grow in their relationships with each other and with God.
Once complete, these resources will serve alongside Grafted Life's existing studies for adults to invite people into a relationally-rich journey with God and other Christians, from the time they are born all the way through adulthood.
We have already secured a distribution partnership through the Vineyard's Pilgrimage Initiative. This relationship will give us access to 600-700 churches in North America, as well as 35 churches who have expressed interest in beta testing the curricula as soon as it is available. Eventually, we envision translating these materials for use in other countries.
The entire suite will take 3½ years to develop and bring to market. The only obstacle to beginning the development work is funding. We invite you to consider generously supporting this vision to reach children, youth, students and their parents/families.