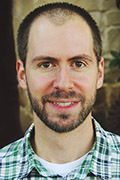 It is perhaps a truism that the church in America has lost its privileged place in American society. It is not entirely clear what will happen in the future, but people have begun to speculate about how the recent political and sociological developments might negatively affect the church in years to come. I have even heard the word "persecution" thrown about, and many exhibit at least some anxiety if not outright fear over what it might cost us to remain faithful to Jesus Christ in years to come.
This past summer, I received a wonderful gift during a missions trip in Russia, which helped me think more holistically about how we, as American Christians, should think about what the future might hold. On the trip I visited numerous people who had been Christians during the Soviet era and listened intently to their stories of remaining faithful to Jesus under Soviet oppression. One of the men had been dismissed from a job he dearly wanted when the employers inadvertently discovered he was a Baptist. At the conclusion of the story, I expressed, with the help of an interpreter, that I was encouraged by his ability to remain faithful under such persecution.
I'll never forget his response. He told me in no uncertain terms that what he had faced was NOT persecution. Persecution, he informed me, was when one was killed or exiled to Siberia.
His response hit me. Most American Christians, if they are worried about the future, are fearful of experiencing something like this guy faced, namely, discrimination. He, however, thought it was nothing and would never put his loss of a job into the same category as persecution.
Interestingly, when we asked the Russian Christians about their concerns, their fears were that their youth would be more attracted to their newfound affluence and gadgets than they were to Jesus. The irony that struck me is that we, as affluent American Christians (including myself), are afraid of bearing a financial or political cost for our faith when the Russian Christians are actually worried about how affluence might weaken their resolve. They were used to political and economic ostracization and almost preferred it to being surfeited with material goods. The Americans and Russians feared what the other was quite used to experiencing.
I am extremely grateful for the resilience I saw in the Russian Christians. They embodied for me the following verses from 1 Peter, and their example challenged me to do the same: "Beloved, do not think it strange concerning the fiery trial which is to try you, as though some strange thing happened to you; but rejoice to the extent that you partake of Christ's sufferings, that when His glory is revealed, you may also be glad with exceeding joy" (1 Pet. 4:12-13). While I personally think that some American Christians have blown the threat of future disenfranchisement out of proportion, the Russian Christians reminded me that this is really nothing to fear, which seems very much in accord with Scripture. In fact, we should not be surprised at all.