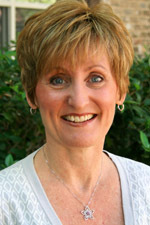 I see this image in my head, and it explains my life for the last few months. The picture is of a little kid trying to move forward but an adult has a hand on their head exerting just enough pressure to keep the child from advancing. From the child's point of view, the situation is exhausting and frustrating.
I am the child in this image, and for the better part of 2014, I have toggled between the emotions of fatigue, frustration, fury and utter futility. In several areas, it seems as if no matter what I do or how hard I try, I cannot make progress toward where I think I should be going. I feel restricted at every turn. It is as if someone pushed a big pause button on my life, and I can't release it.
In the midst of my struggle, I have engaged in prayer and discernment with others. I have consistently communicated with God, inviting Him to redirect me if I am on the wrong path. I can honestly say that I am open to God correcting me from promoting my own agenda. I genuinely desire to know God's will in each of these situations. Throughout these months, I have not sensed God directing me to stop trying to move forward, although the temptation to give-up has never been stronger in my life.
I'm beginning to wonder if, in this season, God is inviting me to deepen my capacity for perseverance. I have often read Scripture verses on the value of perseverance, but haven't seriously considered what life might feel like while God was building it in my heart. Paul writes in Romans 5:
"Through him we have also obtained access by faith into this grace in which we stand, and we rejoice in hope of the glory of God. Not only that, but we rejoice in our sufferings, knowing that suffering produces endurance, and endurance produces character, and character produces hope, and hope does not put us to shame, because God's love has been poured into our hearts through the Holy Spirit who has been given to us."
Although I can't say that I am feeling the love just yet, I am starting to feel the hope. In the last couple of weeks, a desire to not give up is emerging and growing, accompanied by a sense of rest, even in this time of pause. I'll keep you posted about when it feels like life is moving forward again. In the meantime, I will just keep pressing on.