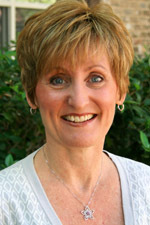 Who do you consider a part of your community? In years past, geography seemed to determine the boundaries of our communities. People socialized with their neighbors, attended the church around the corner and were members of the local PTA. The twenty-first century has evolved the edges of community for many of us. Nowadays, our community connections are often made over Facebook, through texting or by following a Twitter stream. We may not ever physically be present with those who we connect with most.
The modern social environment has caused some to stop and reflect about the value of community. I find myself wondering how we find and enter into the community that Jesus wanted for us. This morning, I was reading John 17. This gospel records a prayer that Jesus spoke out loud with His disciples before He went to the cross. Knowing that He would be leaving His faithful community of followers, the prayer releases those left behind to the Father's care and commissions the faithful to care for one another. At the end of that prayer, Jesus adds:
"I do not ask for these only, but also for those who will believe in me through their word, that they may all be one, just as you, Father, are in me, and I in you, that they also may be in us, so that the world may believe that you have sent me. The glory that you have given me I have given to them, that they may be one even as we are one, I in them and you in me, that they may become perfectly one, so that the world may know that you sent me and loved them even as you loved me."(ESV)
Jesus' words challenge my idea and experience of Christian community. Jesus doesn't ask that Christians learn to celebrate their differences, but rather that His followers would be known for their essential similarity; that we would achieve oneness. I'm sure I don't grasp all of what that really means, but I am intrigued. I suspect I have a deep longing to be a part of a community like that, where my individuality is lost and at the same time mysteriously found in something bigger than myself. I think I will be pondering and praying about that idea for a while.
I believe God will keep shaping my view of community as well as directing me to how I can follow Him to participate in it in a fuller way. In the next few weeks, our reflections will focus on the topic of community, discussing ways that God is inviting us all into a life with Him and one another. I look forward to reading what others have to say about their experience. If you have your own questions about what it looks like to belong in community, I invite you to join the exploration.