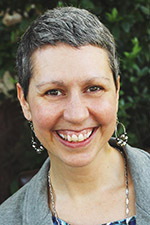 This year for Lent, I'm revisiting a series of spiritual exercises that were very influential in my life back in 2001. It's interesting to go through them again after so much time has passed. Reading my original notes, I can tell that I've grown and changed as a person. Through God's healing work, I'm more confident in His love for me and wiser in my relational choices. It's encouraging to see that.
But God doesn't seem content to just pat me on the back. Instead of simply reviewing my past answers, He's invited me to re-engage in those same questions and exercises now. Through this process, I'm also discovering several places in my heart that still need God's grace and mercy in order to grow in freedom, love and holiness. I'm seeing God reveal deeper layers of the same lies and areas of unbelief in my soul that I had back then. And that's very humbling. And you want to know the worst/best part? It's revealing just how much pride is in my heart.
In the 13 years since I last did these exercises, I have given myself to the study and practice of spiritual formation and spiritual direction. I have received years of therapy and direction, been met by God on several powerful retreats, and engaged honestly with God in countless hours of prayer. I've witnessed God gently and persistently transform others' lives in the direction sessions and retreats I've offered. I've written materials and exercises that I pray bring people face-to-face with the God who loves and heals. And, sadly, because of all that I've experienced, some prideful part of my heart hoped that I'd breeze through this old material and say at each turn, "This used to apply to me, but it doesn't any longer. I'm beyond all of this."
Ha! Who am I to think that I ever could be so spiritually mature that I'd have "arrived?" I think of what Paul wrote in Philippians 3, how he had more reasons than I could even imagine that would "qualify" him to not need Christ. Instead of resting on his laurels, Paul considered everything that he had done and accomplished to be rubbish and instead desired to "gain Christ and be found in him." His next words are the perfect reminder for my soul:
Not that I have already obtained this or am already perfect, but I press on to make it my own, because Christ Jesus has made me his own. Brothers, I do not consider that I have made it my own. But one thing I do: forgetting what lies behind and straining forward to what lies ahead, I press on toward the goal for the prize of the upward call of God in Christ Jesus. Let those of us who are mature think this way, and if in anything you think otherwise, God will reveal that also to you. Only let us hold true to what we have attained.
Lord, forgive me for my horrible pride that wants me to live my life beyond Your healing touch. Thank you for showing me just how much I still need You and will always need You. Thank You that any growth of love or goodness in my soul comes purely from You, so that I have nothing to boast about but You. Though I am not worthy, please continue to guide me on this journey into Your heart. I love You, Lord, but not as You deserve. Help me to love You more. It's in Jesus' name that I pray. Amen.