Deepening Self Awareness: How Our Enneagram Patterns Influence Our Practice
Event Overview
With guest Marily Vancil -
ESDA Member & Author




Our online Seminar with Marilyn Vancil focused on how we, as Spiritual Directors, can be more fully present to our directees and to God. We explored the Enneagram's unbounded invitation to draw closer to the center of God's love while reimagining how we are called to move into our spiritual direction practices with greater freedom and authenticity.

Marilyn Vancil is a member of ESDA and a published author trained in the Narrative tradition of the Enneagram. Her latest book, released on October 18, 2022, is entitled "Beyond the Enneagram: An Invitation to Experience a More Centered Life with God."

In reference to her newest book, Marilyn writes: "My latest book draws readers on a journey outside the bounds of the Enneagram tool and into a deeper relationship with God, the One who longs for us to freely and fully live as the unique, authentic people we were designed to become."


Our time together included a Q&A time with Marilyn.

Upon purchase you gain access to the event recording & handouts
Our Guest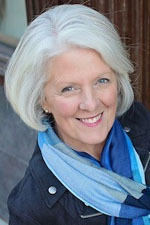 Marilyn Vancil

Marilyn Vancil has studied the Enneagram and its value in Christian spiritual transformation for many years. She is an ESDA member, a Certified Enneagram Professional in the Narrative Tradition through Enneagram Worldwide, a certified spiritual director through SoulStream in Abbotsford, BC, and a trained life coach through Coach Training Alliance. She has also completed coursework on the Enneagram at Loyola University and the Deep Coaching Institute.
Marilyn facilitates workshops and retreats on the Enneagram, focusing on how it can be used to deepen one's life with God and improve relationships. She practices spiritual direction and coaching from Seattle where she enjoys life with her husband, Jeff.
You can learn more about Marilyn, her ministry and books on her website.

Purchase Digital Event
---
ESDA Seminar with Marilyn Vancil